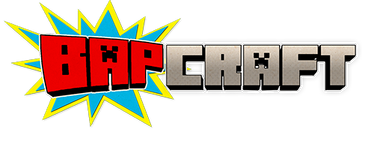 Minecraft
 is a sandbox indie game originally created by Swedish programmer Markus "Notch" Persson and later developed and published by Mojang. It was publicly released for the PC on May 17, 2009, as a developmental alpha version and, after gradual updates, was published as a full release version on November 18, 2011.
KPopp and Whiteboy7thst made a server on Minecraft called BapCraft, which features several minigames like Battle Royale, Skyblock, Infected, etc. KPopp did Let's Plays on each of the mini-games. As of September 24, 2014, BapCraft was re-built with all new features and maps to play, with a new mini-game called Infected was created, where it is based on a Call of Duty map and a zombie apocalypse.
History
KPopp and Whiteboy7thst created BapCraft as a server for their fans, whom call themselves the PoppTart Nation and the GOAT Army, where the two have created several mini-games on the server to play with such as Battle Royale, Skyblock, Survival, etc. However, some bugs and hackers were detected by the fans whom played the server, such as the heart hack (most likely used on Battle Royale) and several others that couldn't be specified. 
On September 24, 2014, the server was renewed and was fixed from bugs, with a new minigame called Infected was introduced to the players on the server, as well as whole new design. However, all of the game data's were reset as well, effecting the player's performance on a specific game.
Playlists
Battle Royale
Skyblock
Infected