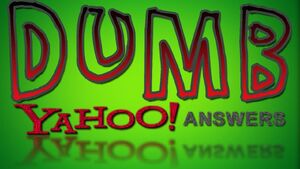 Dumb Yahoo Answers 
was a series created by 
KPopp
. The series purpose is to find the silliest, hilarious and craziest questions Yahoo! can provide. The series premiered on January 8, 2012 and ran for 41 episodes.
The episodes include a small gameplay of video games, while KPopp is saying the question; where the pictures appear on the bottom left of the screen.
The playlist for the series can be found here.
Ad blocker interference detected!
Wikia is a free-to-use site that makes money from advertising. We have a modified experience for viewers using ad blockers

Wikia is not accessible if you've made further modifications. Remove the custom ad blocker rule(s) and the page will load as expected.