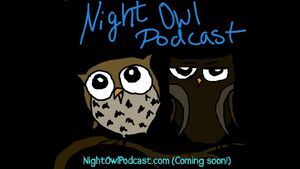 A
podcast
is a digital medium consisting of an episodic series of audio, video, PDF, or ePub files subscribed to and downloaded through web syndication or streamed online to a computer or mobile device.
KPopp collaborated with MrITryHard in hosting a podcast they named Night Owl Podcast, which is currently going live on iTunes and replayed on YouTube. 
KPopp and MrITryHard make a conversation about numerous of topics from Ants to Bullies, KPopp and MrITryHard talk about them all. They also share their own experiences with the topics and share their opinions about it. The series is available on iTunes and Spreaker, with the recorded version of it is uploaded to YouTube.
(Youtube Videos, if a link is missing it isn't uploaded to Youtube)
External Links
Edit