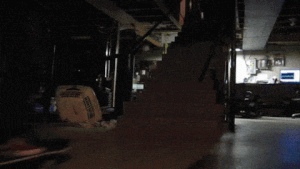 Nose-Stall (I was learning XD)
was
KPopp
's first ever uploaded video. It was published on February 18, 2006, the day she also created her account. The video, however was a skateboarding video; showing a skateboarding trick. The video was only five seconds in record. The video received 19,048 views since it's upload.
KPopp is seen rolling towards a staircase and jumping on it, where she held the rails to keep balance. The video concludes KPopp falling down on the previous step to the ground, where she rolled away. 
The video was the first video KPopp uploaded to her account.
The video was the shortest video ever done by KPopp.
KPopp's basement was revealed in this video.
This was the only video made by teenage KPopp.
Ad blocker interference detected!
Wikia is a free-to-use site that makes money from advertising. We have a modified experience for viewers using ad blockers

Wikia is not accessible if you've made further modifications. Remove the custom ad blocker rule(s) and the page will load as expected.